Please e-mail hallcenter@ku.edu to RSVP for this event!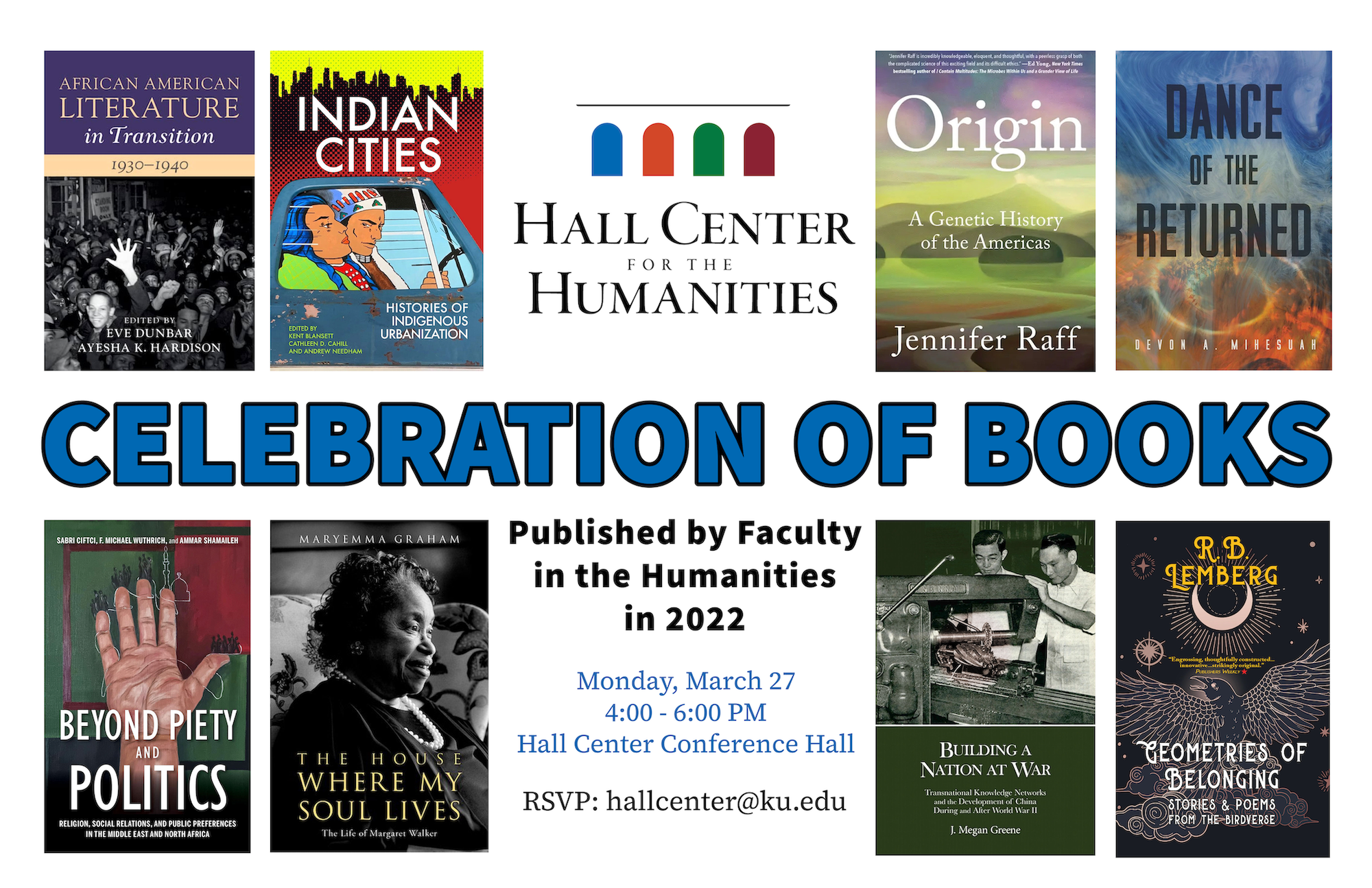 Scholarship in the humanities is one of KU's areas of research excellence. Faculty in the humanities here at KU are outstanding scholars and widely respected across and beyond the United States. They produce a steady stream of books and journal articles with major presses; each year they give dozens of conference presentations across the globe. This annual event celebrates the books published by KU faculty in the humanities, arts, and social sciences. This year's event will be schedule soon. This is a public event and anyone interested in the humanities is welcome!
Submissions for inclusion in the next Celebration of Books are due no later than Friday, December 15, 2023 to ensure that we list your title in our Spring 'Humanities for All' publication, however, submissions for the program itself will be accepted up to March 1, 2024.
Eligible works:
Sole or co-authored books of scholarship and/or creative work
Sole or co-edited volumes
Translations
Editions of classic works in which the editor contributes a substantial, original scholarly interpretation (as evidenced by introductory text and extensive notes)
Expanded and revised editions of previously published work
Equivalent achievements in the fine arts
The following works are NOT eligible:
Edited journals, including special issues
Articles appearing in a volume edited by others
Journal articles
Please submit your titles, along with the names of any additional authors or editors, date of publication, and publisher, to the Hall Center communications coordinator at hchcom@ku.edu.
*Please note:  Occasionally, there are difficulties with works initially scheduled for a certain publication date that are subsequently delayed until the following year.  If this occurs after you have submitted your book information to the Hall Center, please notify us immediately and then be sure to submit your work for the next year's Celebration. Likewise, if you are certain of a release date in 2023, even though the copyright notice will read 2024, please submit your work for the Celebration of 2023 books.