Join us
Join us for a haunting take on history, literature, and more with the return of the Hall Center's all-ages humanities festival with a Halloween twist.

WED OCT 25, 5:30-9:00 PM
Abe & Jake's Landing (8 E. 6th Street)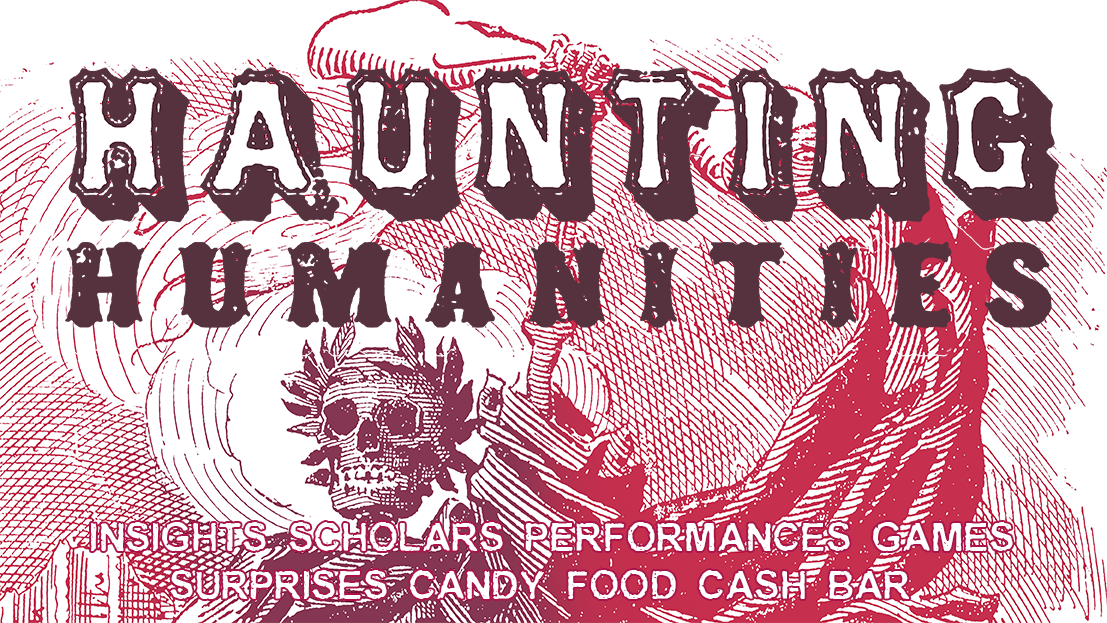 Haunting Humanities explores the insights that the study of humanities can bring to everyday life. Visitors will be given a map of the space and invited to guide themselves through a series of innovative presentations, activities, games, and performances at their own pace. Audience members will also be able to chat one-on-one with participating scholars about their research.
Haunting Humanities is a KU original. It began as the brainchild of the Public Humanities Roundtable, a loosely knit group, convened by the Hall Center, of faculty, staff, and community partners who were interested in developing new ways for humanities researchers to engage the public interactively with their work. When the idea arose for an event like a science fair that could also leverage the public's interest in Halloween, Haunting Humanities was born.
Sponsors
Haunting Humanities has a host of sponsors and community partners, including Humanities Kansas, Kansas Public Radio, Abe & Jake's Landing, the Docking Family, Tom Harper, Friends of the Hall Center, and KU academic departments including the Department of History; Department of Theatre and Dance; Women, Gender & Sexuality Studies; French, Francophone & Italian Studies.
A sampling of activities scheduled for the evening:
Cursed Classics
Learn the secrets of ancient Greek and Roman magic with KU's Department of Classics. Design a curse to smite enemies or a love charm to capture the heart of a crush. Then use the newly acquired knowledge of the ancient dark arts to decode the spell and enter a draw to win a prize. 
"On a Dark and Stormy Night": Crafting the Campfire Story
Danger lurks in the darkness, so join around the campfire for the telling of a few twisted tales. Don't have a story to tell? They'll help participants write one. 
Making Mary's Monster
For the Making Mary's Monster escape room, Mary Shelley and those attending embark on a writing contest to see who can pen the best ghost story. Mary, disturbed by a nightmare, begins her masterpiece, "Frankenstein." In the midst of her work, she is struck by an affliction that visits students, academics, and authors the world over: The dreaded writer's block. Can participants free her?
El Dia de los Muertos: Passing on Family History through Art & Storytelling
Participants will learn about el Dia de los Muertos, the Day of the Dead, as they build an ofrenda, a colorful altar to honor our loved ones who have passed away. In Mexican culture, the dead are to be celebrated and not feared. Afterward, participants can take a photo with Lucia, a 12-foot skeleton.